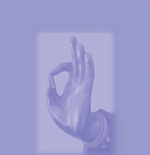 Adyashanti events outside of the San Francisco Bay Area usually take the form of satsangs, booksignings, or intensives. Intensives include a full day (or weekend), with meditation and multiple satsangs that explore teachings in greater depth. Bring your innermost questions, or simply come and immerse yourself in the silence and presence of eternal truth.
Adyashanti and his wife, Mukti, cruising
in Disneyland.

Adyashanti Groups
Join a gathering in your area.